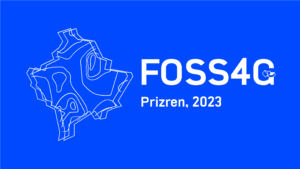 FOSS4G is the primary international event dedicated to Free and Open-Source Software for Geomatics, organized by OSGeo. It serves as the "gathering of the tribe" and is one of the most vibrant events in the Open-Source world.
Oslandia is a proud sponsor of this event, a commitment we have upheld since the establishment of our company (by the way, FOSS4G 2010 in Barcelona was a fantastic event!).
Unfortunately, you will not find any Oslandia team members physically present at FOSS4G 2023 in Prizren this year.
As active contributors to FOSS4G, we would have been delighted to participate, meet fellow open-source developers, exchange with users, deliver talks and workshops, have a few drinks and engage in long conversations about the best projection ever (for the record, my favorite is the Octant projection with Reuleaux triangles, if you're curious).
However,  we regretfully had to skip this year's conference. As we have been asked why a couple of times, you will find below the various reasons.
First and foremost, Oslandia places great importance on the working conditions of our employees. We deeply value work-life balance, which is a crucial factor when deciding to send people abroad. Many of our team members have families and children, and it often becomes challenging to be away from home for extended periods. This year, the distance and difficulty of reaching Prizren presented significant complications in reconciling family constraints with attending FOSS4G.
Moreover, the world is currently grappling with the climate crisis, and as a purpose-driven company, we seek coherence in our actions. Reducing our carbon footprint is part of this effort. As a 100% remote company, we already maintain low emissions. However, flight travels constitute a significant portion of our carbon budget. Consequently, attending conferences has a substantial impact on our carbon footprint, and we must carefully consider our participation in terms of their CO2 impact.
Traveling to Florence in 2022 was feasible as we could rely on train transportation, but it was not as easy for Prizren this time.
Beyond our individual stance on conference participation, we believe this is a global issue that OSGeo and FOSS4G should address. What is the overall carbon impact of such a conference? How can we reduce this impact while maintaining a vibrant and active community? Gathering 1000 people from around the world undoubtedly leaves a carbon footprint that is challenging to accept, especially given the current atmospheric CO2 concentration of 420ppm in 2023.
Today, hybrid conferences, with both on-site and online participation taking place simultaneously, offer a way to strike a balance between community engagement and climate change efforts. Additionally, hybrid conferences have a real impact on one of OSGeo's goals: knowledge dissemination. Many FOSS4G enthusiasts may not have the means to cover travel expenses to another continent. To foster inclusion and diversity and lower the barriers to FOSS4G adoption, it would be beneficial to systematically incorporate online conferences.
Perhaps it is also time to innovate and create new conference formats? OSGeo already has a tradition of local chapters and events, which significantly reduces the need for air travel—an approach we should continue to prioritize. Why not organize local events simultaneously and synchronize them online? The FOSS4G community has a history of innovation; let's apply our skills to conference organization as well!
Oslandia will remain active and continue to participate in community events, striving to find the best balance among all these considerations. Corporate social responsibility and the climate crisis are sometimes seen as unrelated to open-source software development, but we firmly believe that as a company actively engaged in FOSS4G, we have a crucial role to play in shaping our shared future.
To all fellow community members attending FOSS4G : enjoy the conference, have fun and share knowledge, energy and the FOSS4G spirit !
As for us, we will make an effort to stay connected during FOSS4G 2023, and you can meet us online during the event! Click on the image below to join our Jitsi virtual booth and chat with our team.