LOPOCS  is a point cloud server written in Python, allowing to load Point Cloud from Postgis thanks to the pgpointcloud extension.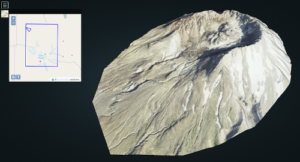 Point Cloud are loaded in database thanks to PDAL and patches are compressed in LAZ. To stream hundreds of millions of points with LOD in an effective way, points are ordered with the Midoc algorithm and a revert Morton code is used when too many patches are involved!
The Potree viewer is currently able to display points coming from LOPoCS through a simple HTTP protocol.
Open Source
Some development has been in made in various projects:
Everything is on github : https://github.com/LI3DS/
Collaboration
LI³DS is an OpenSource project by Oslandia and IGN for 3D scanning and data management. LOPoCS is the result of a great collaboration, in particular with Rémi Cura and Mathieu Brédif.
And plenty of new people in perspective!
Support
Please let us know if you are interested in development, training or consulting
around these pieces of technology.
Do not hesitate to contact us at infos@oslandia.com.